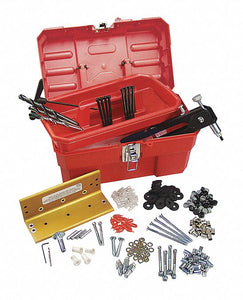 SECURITRON
SECURITRON IK Lock Installation Kit, Mfr.No.M32/M62/M82
Regular price
$348.00
Sale price
$464.00
Unit price
per
SECURITRON IK Tech Specs
Item:

Lock Installation Kit

Type:

Adjustable

Material:

Steel

Color:

Clear

Finish:

Satin Stainless

For Use With:

M62, M82, Mfr. No. M32

Includes:

1/2 in High Speed Drill Bit, 1/8 in Cobalt Drill Bit, 3/8 in Cobalt and Carbide Drill Bit, Blind Nut Placement Tool, Blind Nuts with Collapsing Tool, Connectors, Finish Caps, Flat Washers, Hardware Packs for Mfr. No. M32, Heavy Duty Drill Guide, Insulated Crimp, Long Screw Pack, M62, M82, Rubber Washers, Sex Bolt for Mfr. No. M32, T-Handle Hex Wrench, Threadlock, Tool Box

Package Quantity:

1

Country of Origin:

USA

Shipping Weight:

8.1 lbs.
---